Rowlett High School Jazz Concert benefiting Tornado Relief on March 17, 2016
Rowlett High School Jazz Concert benefiting Tornado Relief on March 17, 2016
Contact: Kim Bonar, 1st VP, Rowlett High School Band Boosters, 214-537-3075, email: rowlettbandboosters@gmail.com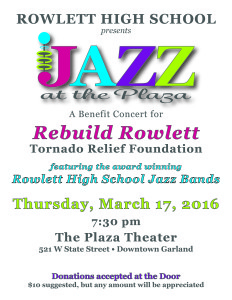 The award winning Jazz Bands of Rowlett High School will perform a concert benefiting the Rebuild Rowlett Tornado Relief Foundation on Thursday March 17, 2016 at 7:30 pm at the Plaza Theater, 521 W. State Street, in Downtown Garland. Donations will be accepted at the door. Suggested donation is $10, but any donation will be appreciated. Proceeds will go to Rebuild Rowlett Tornado Relief Foundation (through Rowlett Chamber of Commerce).
This concert will prepare both bands for the TCU Jazz Festival on March 19, 2016. Last year Varsity Jazz Band won 2nd Place and Non-Varsity Band won 1st Place in their competition categories. This year 11 students were selected for UIL All Region Jazz Band, seven students were selected to UIL All Area Jazz Band and one, Ross Gerberich, was selected All State Jazz Band. Two performing jazz students advanced to State in other categories. Bass player, Rachel Kost, was selected to UIL All State Orchestra, and trombone player, Jack Hardy, was selected to UIL All State Concert Band. This is an exceptionally talented group of musicians, playing a very professional Big Band jazz show.
The Rowlett High School Band program has regularly won awards for marching, jazz and concert. They have represented Garland ISD in six trips to the All State Marching Competition in San Antonio. For 2015, Rowlett High School Band was named the Texas Band Masters Exemplary High School Band program – as voted by the Texas high school band directors. This annual award is given to only one high school in the entire state of Texas, recognizing continuous exemplary performance in marching, jazz and concert bands.
All proceeds collected at this 2016 Jazz at the Plaza Concert will go to the Rebuild Rowlett Tornado Relief Foundation. The Rebuild Rowlett fund is near and dear to our hearts as 12 current band students and seven recent band graduates lost their homes or experienced significant damage in the December 26, 2015 tornado that devastated Rowlett.