Top Ten Reasons to Visit Paris in April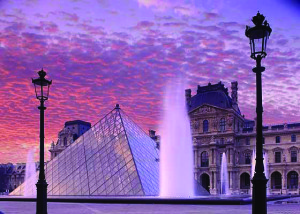 There are never enough reasons not to visit Paris, but I want to be clear in why April is one of the greatest months to make the trip. Here are ten very good reasons to visit Paris in April.
The myriad gardens are bursting with cheerful tulips and daffodils! In particular, a day trip to painter Claude Monet's home and gardens in Giverny is world-class experience not to be missed.
Tables and umbrellas are emerging from their cafes onto the bustling sidewalks and cozy patios.
You can get off-season hotel rates, airfares, package deals, escorted tours, and river cruises. Any way that you choose to experience the City of Light is a great value right now.
The temperatures are perfect for city-walking: not too hot and not too cold! Since Paris is best explored on foot, you can easily burn the calories from the delicious meals, pastries, chocolate, and wine that are abundant in all the little shops and restaurants.
There aren't quite as many tourists crowding the attractions like the museums, Notre Dame Cathedral, the Palace of Versailles, and the Eiffel Tower.
Paris is super-romantic, so no matter what day of the year your birthday or anniversary actually falls on, you can consider your April getaway as the perfect late or early celebration! It would make for a great honeymoon or engagement trip, too.
The Parisians are more relaxed and friendly – happy to be moving from winter to spring, eager to show off every magnificent arrondissement.
There is art and music everywhere!
Since the weather is lovely all over France this time of year, you can easily and comfortably visit other areas and get out into the countryside. Consider renting a car to tour the chateaux of the Loire Valley, or taking an organized tour of the historic Normandy Beaches.
You have worked long and hard this winter surviving the Polar Vortex, cabin fever, and passing-around of the flu – you earned it and you deserve it!