2014 Healthy Living Expo Comes to Garland
2014 Healthy Living Expo Comes to Garland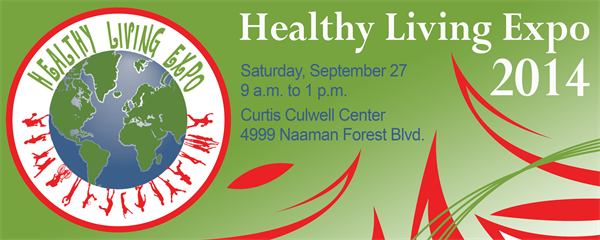 If you're looking for tips for a healthy, safe and efficient lifestyle, mark your calendar for Garland's annual Healthy Living Expo. The event is set for Saturday, Sept. 27, 9 a.m. to 1 p.m. at the Curtis Culwell Center, 4999 Naaman Forest Blvd.
This year's Expo includes several new features, such as the Stop & Learn sessions which will be presented at various exhibitor booths throughout the event. These quick 15-minute learning sessions will cover a variety of Healthy Earth and Healthy You topics.
Outdoor Fest, sponsored by the Garland Parks and Recreation Department and Bass Pro Shops, is also partnering with the Expo this year. Guests can learn about outdoor adventure activities including kayaking, archery, off-road biking, campsite cooking, fishing and more.
Registration is open for the Expo's annual H2O 5K , sponsored by the City of Garland's Water and Stormwater Management departments. This timed race raises awareness about conserving and protecting water resources while encouraging physical fitness.
Recycle Row will allow event patrons to properly dispose of unwanted household goods, electronics, medical equipment and medications and much more.
The event will also include adoptable pets from the Garland Animal Shelter.
"We're excited about the expanded opportunities offered to our residents and neighbors at this year's Healthy Living Expo," says Garland Mayor Douglas Athas. "Whether your goals are to get fit, reduce clutter or save money on your utilities, the Expo is the place to find useful information."
Healthy You exhibitors will offer a variety of free health screenings, along with helpful insights for nutrition, exercise and more. Flu shots also will be available for a cost.
Healthy Earth exhibitors will feature landscaping information, energy-saving advice, recycling information and much more. You will have the opportunity to recycle or donate a multitude of items.
Admission to the Expo is free. The first 750 patrons who visit the Expo will receive a free reusable tote bag. Only one bag per family, please.
The Healthy Living Expo is presented by Baylor Medical Center at Garland, the City of Garland Water Utilities, Environmental Waste Services, and Stormwater Management, Garland Power & Light, Garland Independent School District, and the Garland Chamber of Commerce with Fox 4 as broadcast media sponsor. Other friends of the Expo include Batteries + Bulbs. For more details about Healthy Living Expo activities, visit GoGreenGarland.org.