Eagle Scout Honored Among Garland Scouts & Firefighters
Eagle Scout Honored Among Garland Scouts & Firefighters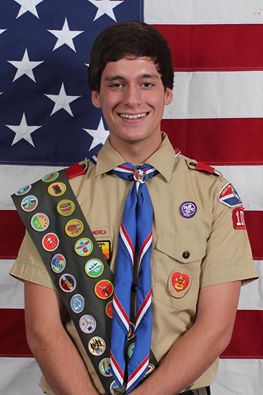 Troop 100 held its Fall Court of Honor Tuesday night, September 18 at the MacDonald Activity Center in Garland. Boy Scouts aged 11-18 received rank advancements, merit badges and special awards.
The troop had one new Eagle Scout this week. Quinn Saab received the highest rank available in the BSA's Boy Scout program. Quinn has just turned 18 and is on a career path to become a firefighter. "Some of the things I did while part of Troop 100 helped me make my career choice," Saab said.
Several Garland fire fighters were there to greet Saab. "Eagle is a big deal," said Jerry Click of the Garland Fire Department. Click has two sons that are Eagle Scouts. "We're always happy to see boys making the right choices. And we're glad to be here to meet a future fire fighter."
Troop 100 is chartered by the Garland Fire Fighters Association. Troop 100 will hold an open house on September 30, 2014 from 7-8:30 pm. All families with boys ages 10-17 with an interest in Scouting or just having fun in the outdoors are invited. There will be hot dogs, chips and drinks, wilderness survival skill demonstrations, gaga ball and dutch oven cobbler.